International Journal of Multidisciplinary Studies (IJMS) is a peer reviewed journal that publishes high quality scholarly articles that are of internationally competitive standards with significant theoretical as well as practically applicable research contributions across broader spectrum of areas of global interest. IJMS is published biannually by the Faculty of Graduate Studies, University of Sri Jayewardenepura. Acceptance for publication is subject to a double-blind peer-reviewing process.
Aim and Scope
International Journal of Multidisciplinary Studies (IJMS) provides a supportive environment for multidisciplinary researchers to publish their contribution to the academy of knowledge and wisdom. Focus of the journal is on multidisciplinary research. A research to be multidisciplinary it should cover at least two distinct disciplines. IJMS accepts submission of research articles, original works, reviews and conceptual works for publication.
Motto
Scientia ultra fines finium (Science beyond limits)
Vision
To enhance body of knowledge and wisdom  that improves the performance, lively hood, and  sustainability of  all beings and nature by  encouraging  cross border research, synergy in research  among diverse fields and faculties of researchers.
Mission
To publish research, views, reviews of multidisciplinary, cross border and diverse research, discoveries, innovations and improvements that add to the body of knowledge and wisdom.
ISSN:  2362-079X Print / 2465-6380 Online
Publishing Frequency: Biannually (July and December)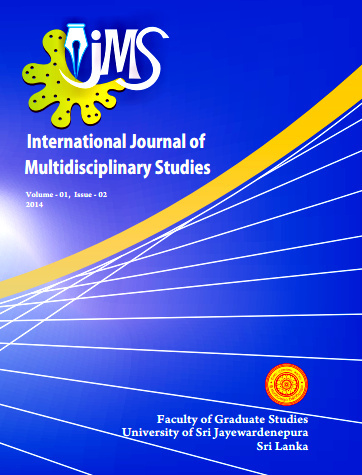 Vol 7, No 1 (2020): International Journal of multidisciplinary Studies
Table of Contents
Articles
| | | |
| --- | --- | --- |
| | Hasini Banneheke, R. Hall, V Vasu, F Muhlschlegel | |