Co-existence of Coral Reef Conservation and Tourism at Pigeon Island National Park
Abstract
Abstract
Pigeon islands National Park (PINP) is one of the three Marine National Parks in Sri Lanka with coral reefs being the major habitat protected. A study was undertaken at PINP with the objective of understanding the challenges encountered and opportunities available for managing the park addressing both coral reef conservation and increasing tourism potential. Field visits, formal and informal group discussions, expert opinions, web based information and literature surveys were the methodology utilized. 
Despise the impose of an entrance fee in May 2011,  146,375 tourists visited the 471 ha park within 40 month period indicating that one hectare of coral reefs can earn more revenue than larger terrestrial parks with charismatic species such as elephants.  Foreign tourist arrivals had increased from 11.9% in 2011 to 25.13% by 2014.  Visitor reviews indicates that their experience was either excellent (46%) or very good (30%) due to abundance of marine life, while12% had either a poor or a terrible visitor experience at the site owing to overcrowding, reef damage and high price.
With only 21% of live coral cover in 2013, it is evident that the reef is being degraded, indicating that a Protected Area which emphasizes on collecting user-fee revenues can lose sight of its primary conservation objectives and is not undertaking sustainable tourism.  Park management effectiveness is not at desirable level (43%), mainly due to non- implementation of a scientifically based management plan. A continuous monitoring programme to check the health of the reef is need, while the introduction of a multi-tiered user fee structures can enhance the economic reruns.  Incorporating PINP into wider Seascape/landscape management through utilizing Special Area Management approach needed to be promoted.
Key Words: Coral Reefs; Pigeon Island National Park; Management Effectiveness; Sustainable Tourism; Stakeholders
References
References
Arin T., and Kramer R., 2002: Divers' willingness to pay to visit marine sanctuaries: an exploratory study. Ocean & Coastal Management 45 (2002) 171–183
Ban, Joowon and Ramsaran-Fowdar Rooma Roshnee., 2013: Developing a Model for Online Social Travel Networks in the Tourism Industry. Proceedings of 23rd International Business Research Conference 18- 20 November, 2013, Marriott Hotel, Melbourne, Australia, ISBN: 978-1-922069-36-8
http://www.wbiworldconpro.com/uploads/melbourne-conference-2013-november/marketing/1384596854_509-Roshnee.pdf
Cicin-Sain B., and Belfiore S., 2005: Linking marine protected areas to integrated coastal and ocean management: A review of theory and practice. Ocean & Coastal Management 48 (11-12), pp 847-868
Cesar H., Burke, L., and Pet-Soede L., 2003: The Economics of Worldwide Cora reef Degradation. Cesar environmental Economic Consulting, Amsterdam.
DSD Kuchchaveli., 2014: Divisional Resource Profile of Kuchchaveli Division -2014
EML Consultants (Pvt) Ltd., 2013: Consultancy Services for Establishing Baseline Inventories of Flora and Fauna in Three identified Coastal Ecosystem in the Eastern Province Part I – Pigeon Island National Park and Surrounding Coastal Ecosystems
EML Consultants (Pvt) Ltd.,2010: An Analysis of Current and Future Economic Value of Coastal Resources in the Eastern Province in Sri Lanka. Study 14. North East Coastal Community Development Project.
Green E., and Donnelly R., 2003: Recreational Scuba Diving In Caribbean Marine Protected Areas: Do The Users Pay? Ambio Vol. 32 No. 2, Royal Swedish Academy of Sciences 2003
GreenTech Consultants., 2009: A Review of Coral Reefs on the East Coast of Sri Lanka: Distribution, Ecology, Status and Threats, Final Report, Pp 93, Annexure 04, August 2010, NEC/PO/TECS(III)/08/18,NECCDEP/GreenTech Consultants, ADB LOAN 2027 SRI (SF): North East Coastal Community Development Project (NECCDEP)
IUCN Sri Lanka and the Central Environmental Authority., 2006: National Wetland Directory of Sri Lanka, Colombo, Sri Lanka. Pp 229-233. http://www.cea.lk/web/images/pdf/7-1.Book-National-Wetland-Directory-Low%20res(1).pdf
IUCN Sri Lanka., 2002 Conservation of Coral Reefs around Pigeon Island, Trincomalee, Issue Paper, Prepared by IUCN Sri Lanka with technical inputs from NARA.
Jobbins G., 2006: Tourism and Coral Reef Conservation: Can they co-exist? In Isabelle M Côté and John D Reynolds (Eds) Coral Reef Conservation. Conservation Biology (13). Cambridge University Press. Pp 237-262
Priskin J and McCool S., 2006: The visitor experience: an essential component of protected area stewardship. Parks- The international journal for protected area managers. Vol 16 No 2 The Visitor Experience Challenges
http://cmsdata.iucn.org/downloads/parks_16_2.pdf
Rajasuriya A., 2012: Provisional Checklist of Corals in Sri Lanka. In: The National Red List 2012 of Sri Lanka; Conservation Status of the Fauna and Flora. Weerakoon, D.K. & S. Wijesundara Eds., Ministry of Environment, Colombo, Sri Lanka. x-y pp
Rajasuriya A., Perera N., & Fernando M., 2005: Status of Coral Reefs in Trincomalee, Sri Lanka. In (Eds: David Souter and Olof Lindėn). Coral Reef Degradation in the Indian Ocean: Status Report 2005. CORDIO, Department of Biology and Environmental Science, University of Kalmar, Sweden. Pp 97-103
http://www.cordioea.org/storage/status-reports-full/CORDIO2005_2.pdf
Rajasuriya Arjan., 2005: The Status of Coral Reefs in Sri Lanka in the Aftermath of the 1998 coral bleaching event and the December 2004 Tsunami. In (Eds: David Souter and Olof Lindėn). Coral Reef Degradation in the Indian Ocean: Status Report 2005. 83-96 pp. http://www.cordio.org/reports/cordio_report_2005_part1.pdf
Rajasuriya Arjan and Karunaratne Chaminda.,2000: Post-bleaching status of the coral reefs of Sri Lanka. Coral Reef Degradation in the Indian Ocean: Status Report and Project Presentations 2000. Pp 54-63
Staub F., and Hatziolos M., 2004: Score Card to Assess Progress in Achieving Management Effectiveness Goals for Marine Protected Areas. Prepared for the World Bank. Revised version – July 2004. http://www-wds.worldbank.org/external/default/WDSContentServer/WDSP/IB/2005/07/14/000160016_20050714172301/Rendered/PDF/32938a10ScoreC1rogress200401public1.pdf
USAID.,2009: Assessment of Tourism in Eastern, Uva and North Central Provinces of Sri Lanka. Prepared under USAID Contract Number 383-C-00-08-00500-00. Sri Lanka Connecting Regional Economies (USAID/CORE) Programme. http://www.bpa-srilanka.com/files/USAID-CORE-Tourism-Assessment_1_.pdf
Xiang, Z and Gretzel, U (2010): Role of social media in online travel information search. Tourism Management, vol. 31, pp. 179-188
http://www.lesroches.edu/common/document/library/role_social_media_online_travel_information_search.pdf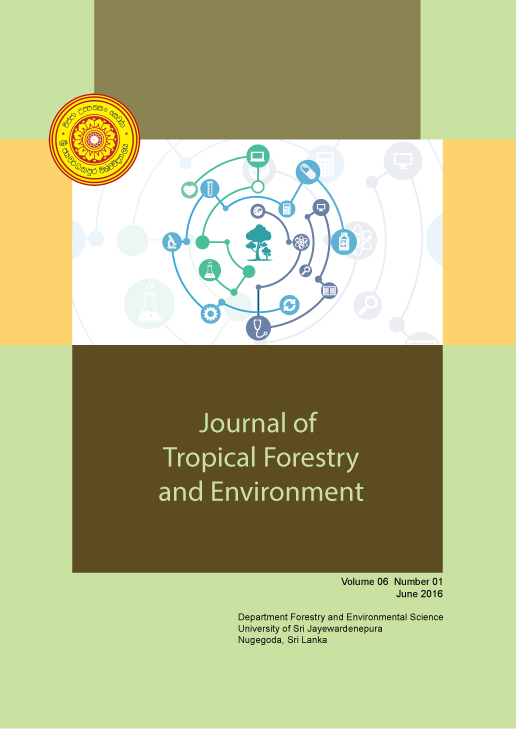 Downloads
How to Cite
Perera, N. M. (2016). Co-existence of Coral Reef Conservation and Tourism at Pigeon Island National Park. Journal of Tropical Forestry and Environment, 6(1). https://doi.org/10.31357/jtfe.v6i1.2614
Section
Reviewed Articles