Ethnobotanicals for Storage Pest Management: Effect of powdered leaves of Olax zeylanica in suppressing infestations of rice weevil Sitophilus oryzae (Coleoptera: Curculionidae)
Abstract
Abstract
The rice weevil Sitophilus oryzae is considered the major problem in stored rice in Sri Lanka. Due to the adverse effects of pesticide usage, research on the re-evaluation and use of many ethnobotanicals as alternative storage pest control agents has been intensified. Although plant materials with insecticidal properties provide small-scale farmers with a locally available, eco-friendly and inexpensive method of control of storage insect pests, lack of understanding and knowledge prevent their widespread application. The present study was therefore undertaken to investigate the effectiveness of the botanical Olax zeylanica in controlling infestations of the rice weevil with the view of fulfilling this lack.
In two separate bioassays, contact/feeding and fumigant toxicity of powdered leaves of O. zeylanica were tested against 1-7 days old adults under laboratory conditions. All experiments were conducted using a no-choice bioassay apparatus. Contact/feeding toxicity was tested by directly exposing weevils to 1.0, 3.0, 5.0 and 7.5g of leaf powder mixed with 100g of rice grains while fumigant toxicity was evaluated by using the same doses where weevils were exposed to fumes emitted from the leaf powders.
In both bioassays 100% mortality of the weevils was observed within 18 hours of exposure to 3.0, 5.0 and 7.5g doses of leaf powder. Percentage weevil mortality in treated rice tested with three doses of leaf powder at all the time intervals (except for 1.0g) was significantly higher (p < 0.05) than that of the corresponding control. No Contact/feeding toxicity was recorded when weevils were directly exposed to 1.0g leaf powder whereas only 14% weevil mortality was observed even after 24hours of exposure to fumes of leaf powder. Results also revealed that weevil mortality increased both with increasing dose and time of exposure. It is of interest to note that in both bioassays a 100% weevil mortality was obtained after 18 hours of exposure to a lower amount of leaf powder such as 3.0g, when the adults were either directly exposed to the leaf powder or to its fumes. Moreover, LD50 values of 2.55g and 2.08g for leaf powders obtained after 12 hours of exposure to insects in contact/feeding toxicity test and fumigation test respectively indicated that leaf powder is more toxic to weevils when they were in direct contact with it. Findings of the present study bears out the exceptionally high efficacy of O. zeylanica leaves applied directly mixed with the food material or introduced as a fumigant to suppress weevil infestations in stored grains and strengthen the possibility of using this plant as an alternative to synthetic chemicals in storage pest management.
Keywords: Olax zeylanica, Sitophilus oryzae, Direct Contact/Feeding Toxicity, Direct Fumigation Toxicity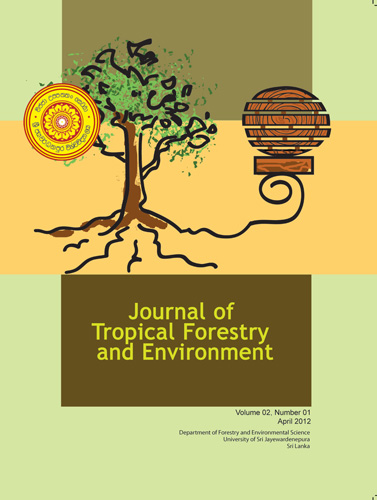 Downloads
How to Cite
Fernando, S. D., & Karunaratne, M. (2012). Ethnobotanicals for Storage Pest Management: Effect of powdered leaves of Olax zeylanica in suppressing infestations of rice weevil Sitophilus oryzae (Coleoptera: Curculionidae). Journal of Tropical Forestry and Environment, 2(1). https://doi.org/10.31357/jtfe.v2i1.38
Section
Reviewed Articles