Effect of Various Agroforestry Tree Species on Soil Chemical Properties of Irrigated Tree Plantation of Pakistan
Abstract
Pakistan is a forest deficient country and natural forests are seriously depleted due to overutilization and lack of proper conservation practices. Agroforestry is being promoted to release the pressure on the natural forests as well as to increase farmlands utility and production. Selecting tree species with the potential to increase soil fertility and offers less competition to the main crops is a fundamental problem. Two exotic species Acacia nilotica, Eucalyptus camaldulensis, and an indigenous species, Dalbergia sissoo were used to understand their role in changing the soil composition under an irrigated plantation environment. Their effect was studied both at different soil layers and under and away from the canopy. All three species significantly affected the chemical composition of the soil. Results revealed that the electrical conductivity, organic matter, N, P, K, and soil moisture were significantly higher under the canopy as compared to away from the canopy. Most of the activity and significantly high minerals were found at 15–30 cm as compared to 0–15 cm soil strata. Dalbergia sissoo is a deciduous tree and produced more leaf litter outperformed A. nilotica and E. camaldulensis. E. camaldulensis suppressed the understory growth of other plant species thus threatening local flora and fauna therefore should not be recommended for plantation on farmlands. D.
sissoo a shade-intolerant shall be planted alone or mix with A. nilotica would be a preferred choice as they complement well due to sparse canopy of the latter. D. sissoo is mainly used for timber wood production whereas A. nilotica is used for fuelwood will help cope with the wood supply chain. It is therefore concluded that planting tree species improve the soil conditions positively however selection of the tree species should be done with caution. Agroforestry has the potential to reduce the gap existing
in timber wood production in Pakistan.
Keywords: Dalbergia sissoo, Acacia nilotica, Eucalptyus camaldulensis, soil fertility, agroforestry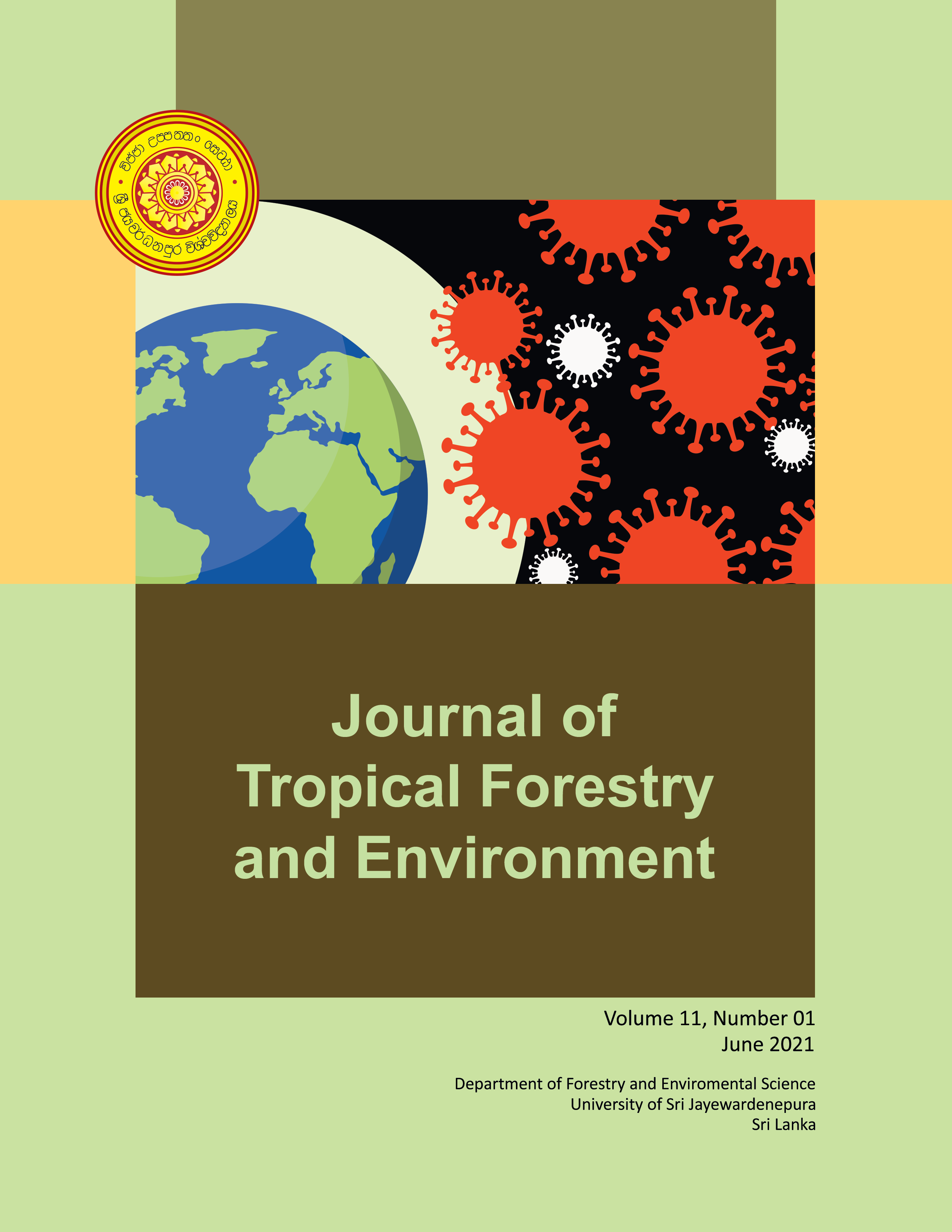 Downloads
How to Cite
Muhammad, Z. ., Javed, M. ., Yasin, . G. ., & Ahmad, I. . (2021). Effect of Various Agroforestry Tree Species on Soil Chemical Properties of Irrigated Tree Plantation of Pakistan. Journal of Tropical Forestry and Environment, 11(01). Retrieved from https://journals.sjp.ac.lk/index.php/JTFE/article/view/5367