The Role of MEMS in In-Vitro-Fertilization
Abstract
The assisted reproduction has been considered a viable solution for the infertility of humankind for more than four decades. In-Vitro-Fertilization (IVF) is one of the most successful assisted reproduction techniques, where the reproductive cell of the female partner is fertilized outside of her body. Initially, the IVF process has been conducted manually by an experienced embryologist. However, even with a highly experienced individual, the operation had extremely lower success rates due to the limited control in environmental conditions and the requirement of precise movements. Therefore, to address this technological deficit, the feasibility of the mechatronics devices for IVF procedures has been investigated. Among the different mechatronics concepts, micro-electromechanical system (MEMS) technologies have been gradually attracted to the IVF process and improved its capabilities. The purpose of this paper is to present a brief overview of the role of MEMS technologies in IVF. The article classifies the MEMS technologies in IVF based on their application in order to emphasize its contribution. In addition, the article extensively discusses the state-of-the-art mechatronic techniques utilized in Intracytoplasmic Sperm Injection (ICSI), one of the most popular techniques used in IVF. This review article expects to become extremely beneficial for the engineering researchers new to this field who seek critical information on IVF in simple terms with highlights on the possible advancements and challenges that may emerge in the future.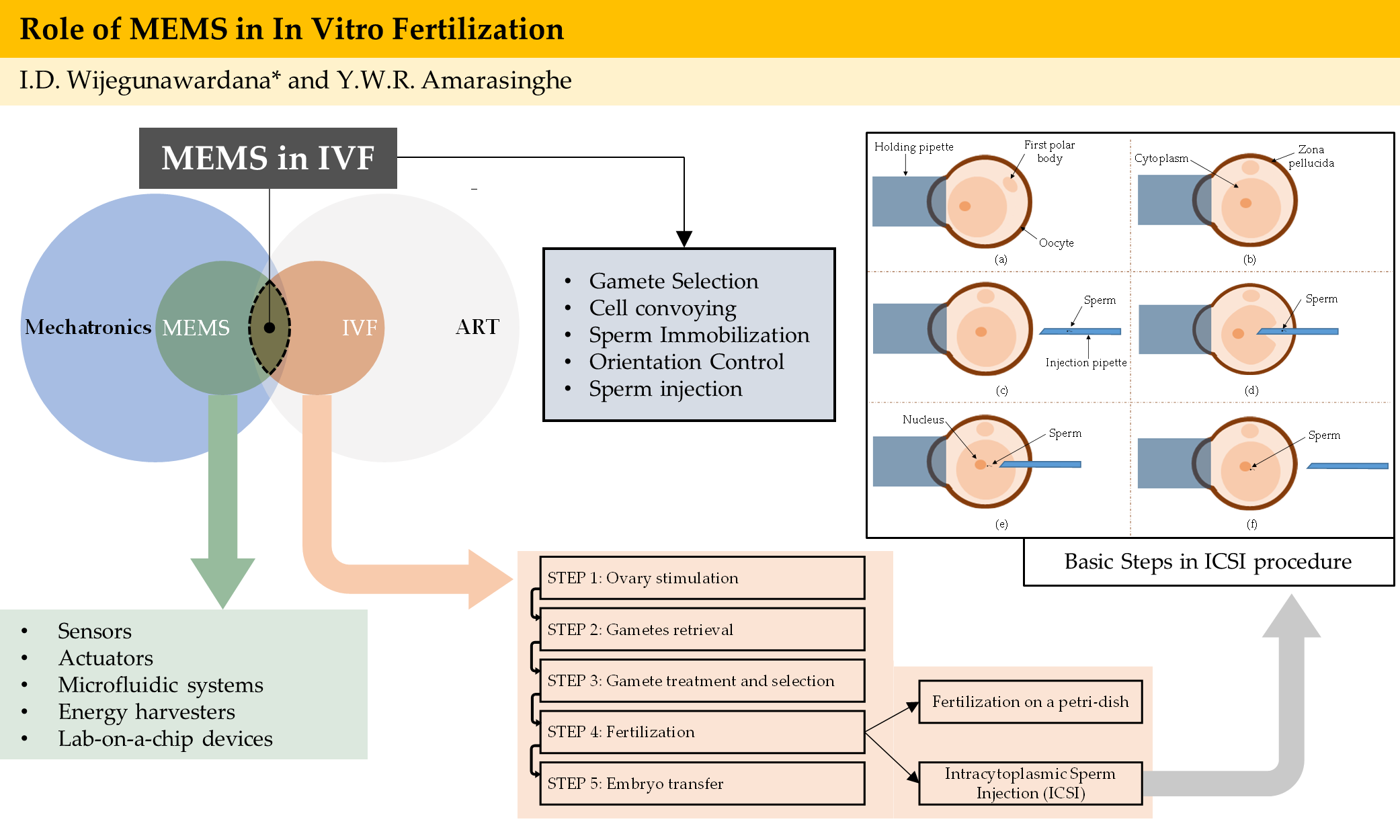 Downloads
How to Cite
Wijegunawardana, I., & Amarasinghe , Y. W. R. . (2021). The Role of MEMS in In-Vitro-Fertilization. Advances in Technology, 1(1), 235–255. https://doi.org/10.31357/ait.v1i1.4847
License
Copyright (c) 1970 Mr. I. D. Wijegunawardana, Professor Y. W. R. Amarasinghe
This work is licensed under a Creative Commons Attribution-NonCommercial-NoDerivatives 4.0 International License.
The Authors hold the copyright of their manuscripts, and all articles are circulated under the terms of the Creative Commons Attribution License, which permits unrestricted use, distribution, and reproduction in any medium, as long as that the original work is properly cited.
The use of general descriptive names, trade names, trademarks, and so forth in this publication, even if not specifically identified, does not imply that these names are not protected by the relevant laws and regulations. The authors are responsible for securing any permissions needed for the reuse of copyrighted materials included in the manuscript.