Antioxidant Activity and Nutritional Properties of Freshly Tapped Palmyra (Borassus flabellifer) Sap
Abstract
This study aims to analyze the antioxidant activity and the nutritional profile of the freshly tapped palmyra sap. Samples were collected in pre-sterile sample collection bottles from different parts of Jaffna peninsula and immediately transferred into an ice box. Pooled samples were centrifuged (1000rpm, 5 minutes) and the supernatant is stored at the refrigerator (4℃) for nutritional, and antioxidant analysis. The results exhibit that fresh sap consists of Na (15.3±0.14 mg/100g) and K (22.6±0.12 mg/100g), while the total ash content was 0.62±0.45 (g/100g). The total sugar content of the sap was 16.43±0.07(g/100g) and the reducing sugar and non-reducing sugar content were 2.16±0.32 (g/100g), 14.27±0.04 (g/100g) respectively. Sap exhibited a relatively low amount of fat 0.02±0.01 (mg/100g). DPPH scavenging activity with regard to IC 50 value was  1.36±0.35 mg/mL, and the total phenolic content and ascorbic acid content were recorded as 186±12.27(mg GAE/100g), 12.16±0.31 (mg/100g) respectively. It can be concluded that the fresh sap of palmyra is a good source of antioxidant properties and nutritional value.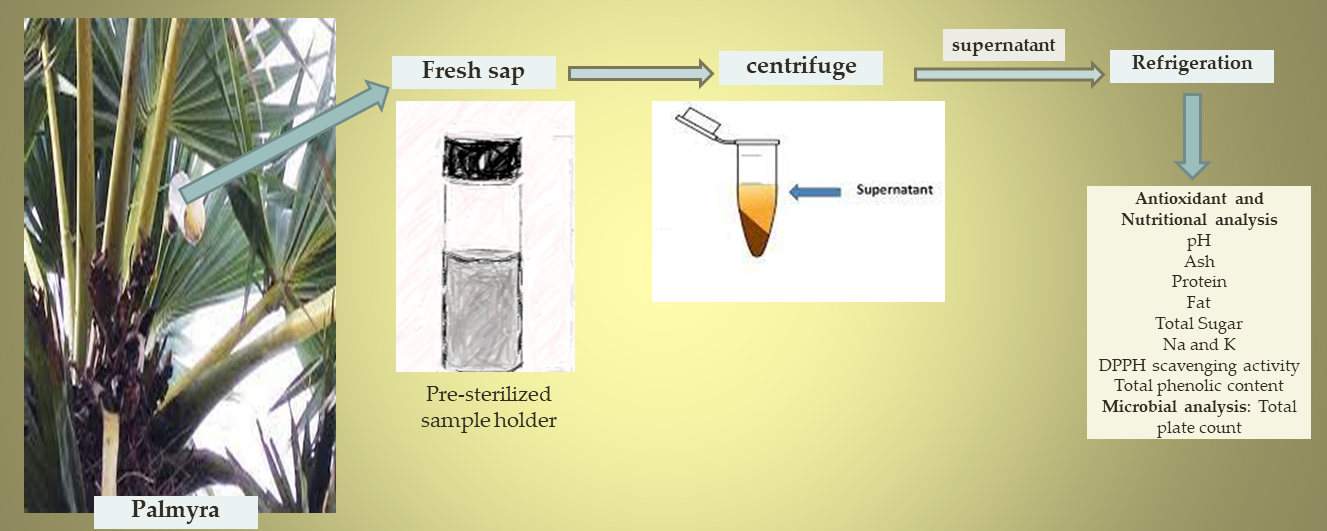 Downloads
How to Cite
Sivaji, M., & Aheeshan, B. (2021). Antioxidant Activity and Nutritional Properties of Freshly Tapped Palmyra (Borassus flabellifer) Sap. Advances in Technology, 1(2), 300–306. https://doi.org/10.31357/ait.v1i2.4880
Section
Agriculture Technology
License
Copyright (c) 1970 Maathumai Sivaji, Aheeshan
This work is licensed under a Creative Commons Attribution-NonCommercial-NoDerivatives 4.0 International License.
The Authors hold the copyright of their manuscripts, and all articles are circulated under the terms of the Creative Commons Attribution License, which permits unrestricted use, distribution, and reproduction in any medium, as long as that the original work is properly cited.
The use of general descriptive names, trade names, trademarks, and so forth in this publication, even if not specifically identified, does not imply that these names are not protected by the relevant laws and regulations. The authors are responsible for securing any permissions needed for the reuse of copyrighted materials included in the manuscript.