Identification of the Appropriate Curing Method for Sri Lankan Turmeric (Curcuma longa L.) and Compare its Phytochemical Properties with an Indian Market Sample
Abstract
Turmeric (Curcuma longa L.) is an underground rhizome that is an essential ingredient in day-to-day life. India is the major turmeric production and exportation country in the world. However, since December 2019, Sri Lanka has banned the importation of turmeric from other countries like India. Curing is a significant step during the processing of turmeric, which can be described as cooking fresh turmeric rhizomes before going to the drying step. Curing helps to avoid the raw odor, to reduce the drying time, to distribute the pigment product uniformly, and facilitate uniform drying. This study was conducted to identify the best protocol for turmeric processing and compare the quality of local turmeric samples prepared by using different processing steps such as, uncured and dried as slices, water boiled and dried as slices, steamed and dried as slices with imported turmeric from India. All the samples were separately analyzed for phytochemical properties (moisture content, volatile oil content, curcumin content, oleoresin content, etc.). Curcumin is an important attribute when considering the quality of turmeric. Curcumin content is varied with the curing step. The lowest curcumin content was shown by the uncured and sliced sample (2.86 ± 0.13 %). Steamed and dried as slices sample showed the highest curcumin content (4.51 ± 0.02 %). Curing and Slicing also decreased the drying time. However, water boiled and sliced sample (T-2) showed a high yield (wet to dry ratio 5.41:1), volatile oil content 4.40 ± 0.00 %, and oleoresin content 14.81 ± 2.36 %. According to the results, among the locally produced turmeric, steamed and dried as slices sample (T-3) showed good quality especially for curcumin content.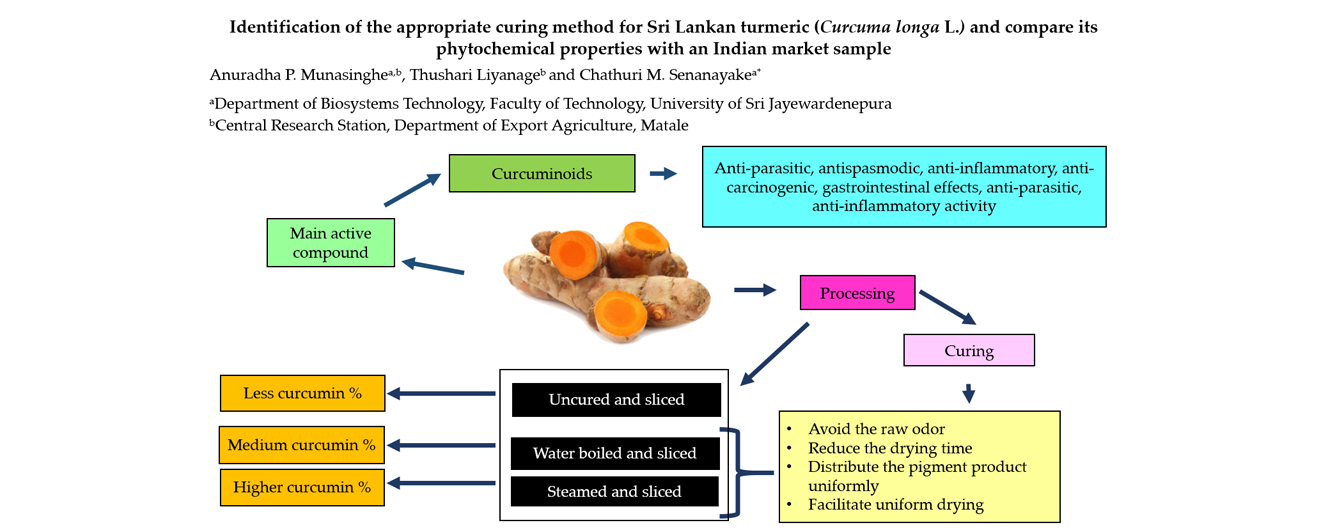 Downloads
How to Cite
Senanayake, C., Munasinghe, A., & Liyanage, T. (2021). Identification of the Appropriate Curing Method for Sri Lankan Turmeric (Curcuma longa L.) and Compare its Phytochemical Properties with an Indian Market Sample. Advances in Technology, 1(1), 41–64. https://doi.org/10.31357/ait.v1i1.4882
Section
Emerging Food Technology
License
Copyright (c) 2021 Chathuri Senanayake, Anuradha Munasinghe, Thushari Liyanage
This work is licensed under a Creative Commons Attribution-NonCommercial-NoDerivatives 4.0 International License.
The Authors hold the copyright of their manuscripts, and all articles are circulated under the terms of the Creative Commons Attribution License, which permits unrestricted use, distribution, and reproduction in any medium, as long as that the original work is properly cited.
The use of general descriptive names, trade names, trademarks, and so forth in this publication, even if not specifically identified, does not imply that these names are not protected by the relevant laws and regulations. The authors are responsible for securing any permissions needed for the reuse of copyrighted materials included in the manuscript.