Green Tea Incorporated Edible Coating Extends the Postharvest Life of Strawberry Fruits (Fragaria ananassa)
Abstract
In this study, the effects of green tea incorporated edible coating (EC) on the postharvest quality of strawberries were evaluated. EC was prepared by solubilizing carboxymethyl cellulose (0.75 % w/v), glycerol (2% v/v), and green tea concentrate (14% v/v) in distilled water at 80°C. Coated strawberries were packed in perforated polyethylene terephthalate boxes (10 fruits per box) and kept in refrigerated conditions (6±1°C). Uncoated strawberries were used as the control. Significant differences were observed in weight loss, visual quality, titratable acidity, and total soluble solids between the coated and uncoated fruits. The EC significantly reduced the total aerobic plate count and yeast and mold count of the stored fruits (p<0.05). EC exhibited decent in vitro inhibitory activity against Botrytis cinerea. The sensory properties of the coated fruits were comparable with fresh strawberries even on the 15th day of storage. In conclusion, green tea incorporated edible coating can be introduced as an effective coating material for the extension of the postharvest life of strawberry fruits.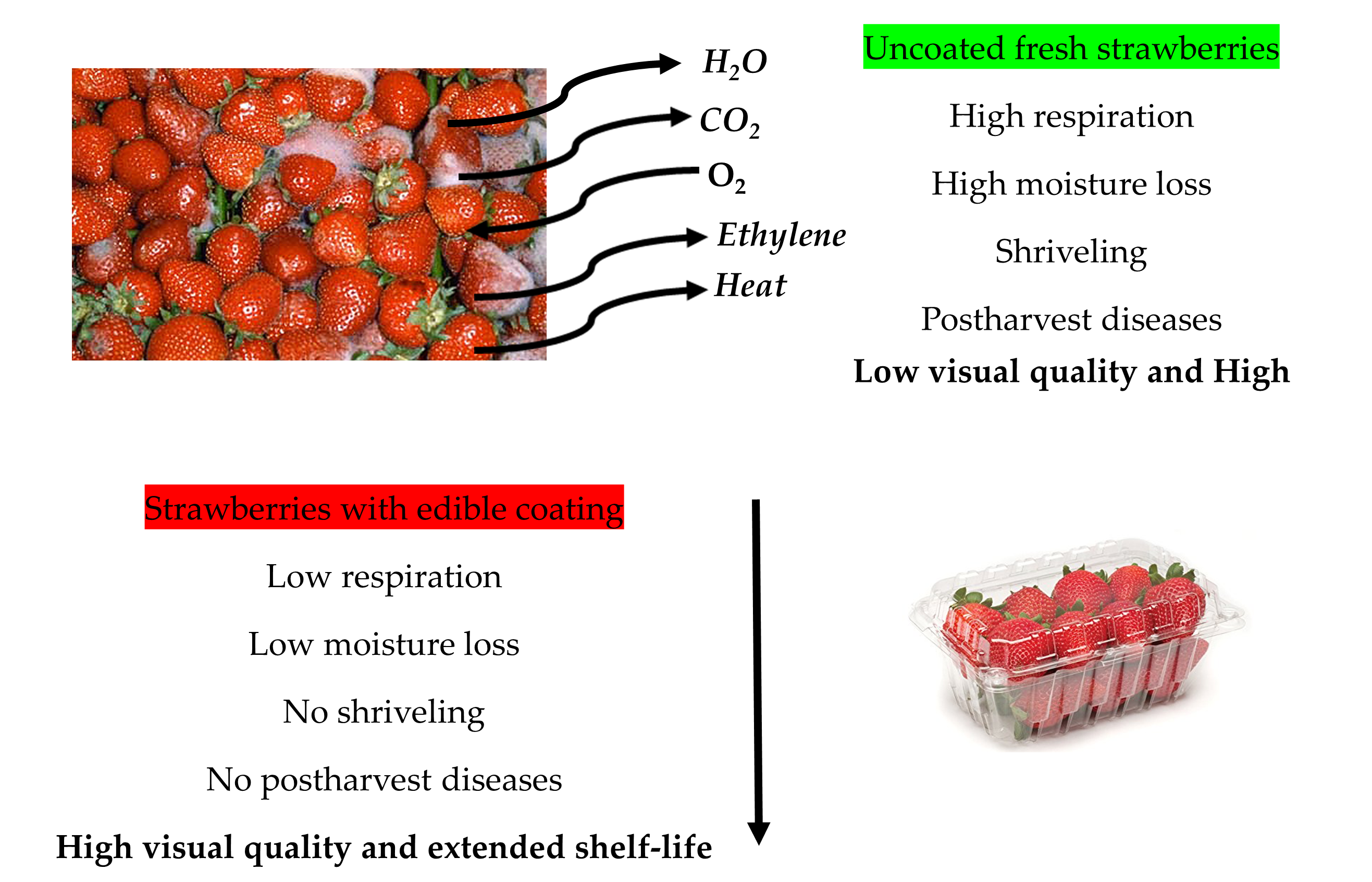 Downloads
How to Cite
Jayamali, N. ., Wijesinghe, J., & Silva, P. (2022). Green Tea Incorporated Edible Coating Extends the Postharvest Life of Strawberry Fruits (Fragaria ananassa). Advances in Technology, 2(4), 382–393. https://doi.org/10.31357/ait.v2i4.6031
Section
Emerging Food Technology
License
Copyright (c) 2022 N.A.I. Jayamali, Janaka Wijesinghe, P.A.P.M.D. Silva
This work is licensed under a Creative Commons Attribution-NonCommercial-NoDerivatives 4.0 International License.
The Authors hold the copyright of their manuscripts, and all articles are circulated under the terms of the Creative Commons Attribution License, which permits unrestricted use, distribution, and reproduction in any medium, as long as that the original work is properly cited.
The use of general descriptive names, trade names, trademarks, and so forth in this publication, even if not specifically identified, does not imply that these names are not protected by the relevant laws and regulations. The authors are responsible for securing any permissions needed for the reuse of copyrighted materials included in the manuscript.