Present Status and Conservation of Medicinal Plants in the Vicinity of Kalaiyoodai Kannaki Amman Kovil in Navaaly, Jaffna District: A Field Survey
Abstract
Indigenous system of Medicine consists of Ayurvedic, Siddha, Unani and traditional Medicine. In practice, generally medicinal plants are used often in compound form to which either herbs, metals, minerals and animals products are added, but mostly herbs are used in treatment. Medicinal plants are the backbone of the Siddha Medicine. This plays an important role to cure major and minor ailments of diseases. Globally, there is a demand to utilize the medicinal plants to manage the acute and chronic diseases. Objective of our study is the "Present status and conservation of Medicinal plants in the vicinity of Kalaiyoodai Kannaki Amman Kovil, Navaaly, Jaffna District." The study was carried out in 2019. The area map was used to record the medicinal plants and other data were collected from the records of the Department of Gunapadam for the identification of the Medicinal
plants. Frequent field visits were made to the areas among the identified medicinal plants are classified based on different categories.98 Medicinal plants were identified in the significant area. Among these 98 medicinal plants according to the taxonomical morphology 22 (22.44%) are trees, 38 (38.77%) are herbs, 1 (1.02%) are lianas, 13 (13.26%) are climbers, 3 (3.06%) are creepers, 3 (3.06%) are shrubs, 1 (1.02%) are parasites, 3 (3.06%) are cactiles, 2 (2.04%) are adjacent to lake, 11 (11.22%) are thorn plants and 3 (3.06%) are thorn climbers. Based on their lifespan 67 (68.36%) plants are perennial and 31 (31.63%) are annual plants. We discovered 52 (53.06%) are common plants and 46 (46.93%) are rare on this zone through our study. Among 98 medicinal plants according to the habitat, 94 (95.91%) are natural habitat plants and 4 (4.08%) are cultivated plants. In 98  Medicinal plants according to the pharmacological actions, 8 (8.16%) has Expectorant, 5 (5.10%) has Antipyretic, 2 (2.04%) has Anti mandha, 9 (9.18%) has Diuretic, 10 (10.20%) has Anti vatha or Antiinflammatory, 7 (7.14%) has Astringent, 12 (12.24%) has Tonic, 4 (4.08%) has Antidote, 3 (3.06%) has Vermifuge and 3 (3.06%) has Styptic actions. Among 98 medicinal plants, 9 (9.18%) are used in
management of Madhumega (Type II Diabetes) and 9 (9.18%) are used in Skin diseases. In our identification more than 95 species, belonging to 47 Families were documented along with their botanical, Tamil names, Family and therapeutic uses were gathered. The Amaranthaceae Family plants were most represented while medicinal plants identification. This paper attempts to give awareness on conservation and gives the present status of Medicinal plants in the Kalaiyoodai Kannaki Amman Kovil in Navaaly, Jaffna. We suggest declaring this significant area as a protectable place of valuable medicinal plants on their natural habitat. Through our study we discovered many plants which identified in this area are most important, very useful and rare medicinal plants for treating lots of diseases. Documentation of the Medicinal plants helps in the preservation of indigenous system of medicine and contribute to the conservation and management of plant diversity.
Keywords: Medicinal plants, Kalaiyoodai Kannaki Amman Kovil, Navaaly, Jaffna, Conservation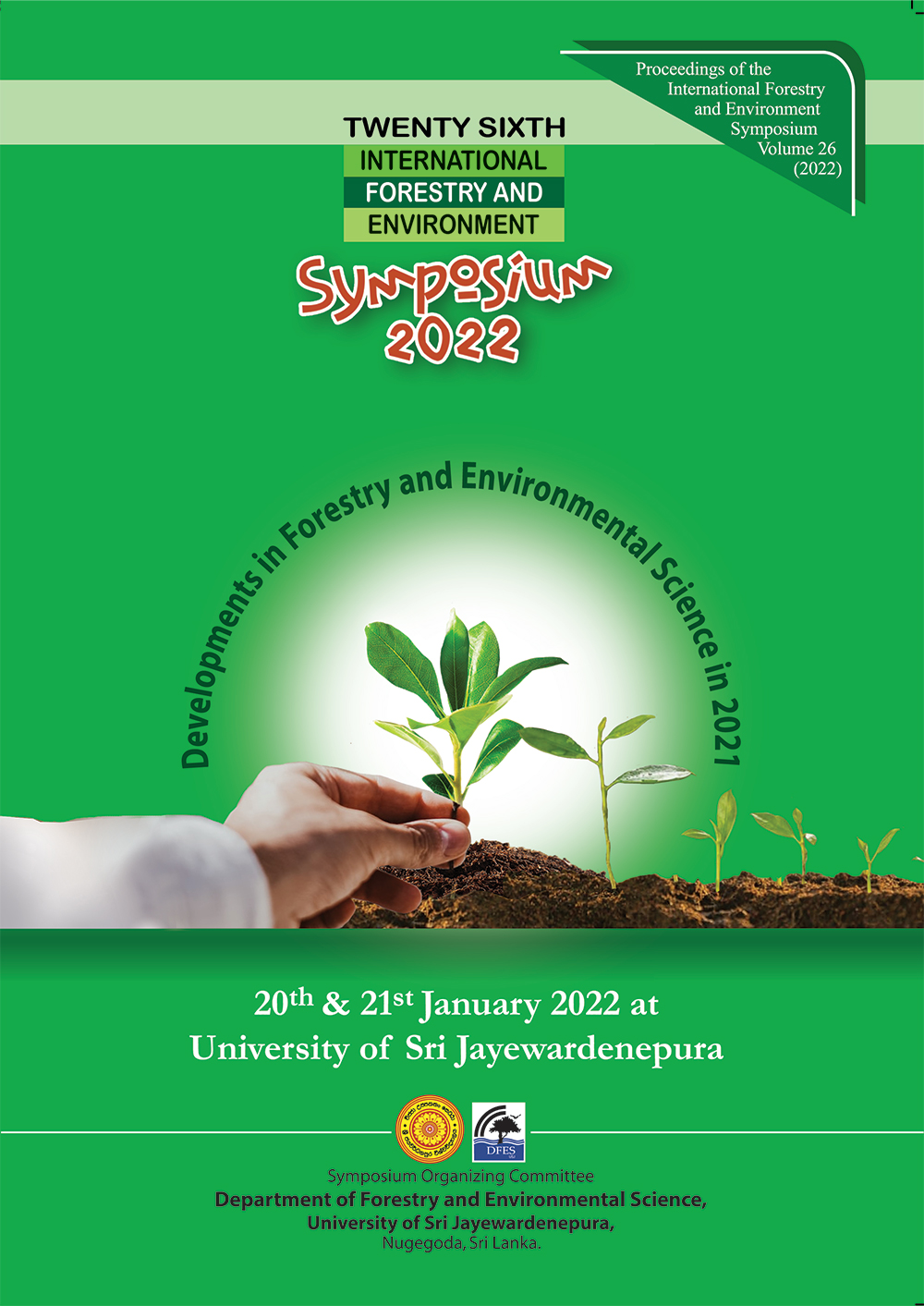 Downloads
Section
Biodiversity Conservation and Management