Perceptions and Social Divers of Urban Residents on Wildlife Gardening: A Case Study of Residential Landscapes in Gampaha District
Abstract
Urbanization has limited the connectedness of humans with nature in their day-to-day lives, thereby
elevating the conservation value of residential landscapes. Thus, residential gardens act as hidden
treasures ensuring the ecological resilience in urban environments. However, attitudes and other
socio-economic drivers of urban dwellers on wildlife conservation plays a critical role in shaping the
ecological role of urban residential gardens. Therefore, the present study was conducted to assess the
perceptions and social divers of urban residents on wildlife gardening in the District of Gampaha.
Hundred and fifty households located in the three highest populated Divisional Secretariats
(Gampaha, Mahara and Negombo) in Gampaha District were selected randomly. The sociodemographic details and the perceptions of residents on facilitating the wildlife in their gardens were
assessed through a pre-tested interviewer administrated questionnaire. The Chi-square test of
association was used to identify the significant socio-economic factors that influenced the wildlife
gardening related practices in residential gardens. Among the respondents, 38.1% were 36 to 50 years
old, while the majority (55.7%) had completed the Advanced level as the highest academic
qualification. Even though wildlife gardening was not familiar to the majority (77.6%), 95% of
respondents preferred to see small wildlife in their gardens. Around 56% of the respondents were
occasionally spending their time enjoying the wildlife. The majority of households (69.4%) had used
various methods to facilitate wildlife in their garden, which were limited to birdbaths and feeding
areas. According to the observation of the respondents, 1st rank was given to squirrels followed by
birds and butterflies as the most visited small wildlife categories to the residential gardens. The
majority of respondents (74.5%) were in strong agreement that observing wildlife in their gardens
positively affect their wellbeing by reducing stress, however, only 14% had a positive intention in
altering the gardening practices to attract wildlife. Restrictions in time, knowledge/information and
garden size were the top three barriers for wildlife gardening among the surveyed residents.
According to the Chi-square test, age and employment were significantly associated (p<0.05) with
the time spent on enjoying wildlife, while only land area of the garden and income significantly
(p<0.05) influenced the perception of wildlife gardening. The present study denoted that, urban
residents already value the contribution of wildlife in their lives. Yet, there is a knowledge gap to
facilitate wildlife in urban settings, where increasing awareness of wildlife gardening and its
intangible benefits would support urban biodiversity.
Keywords: Biodiversity, Perception, Residential gardens, Urbanization, Wildlife gardening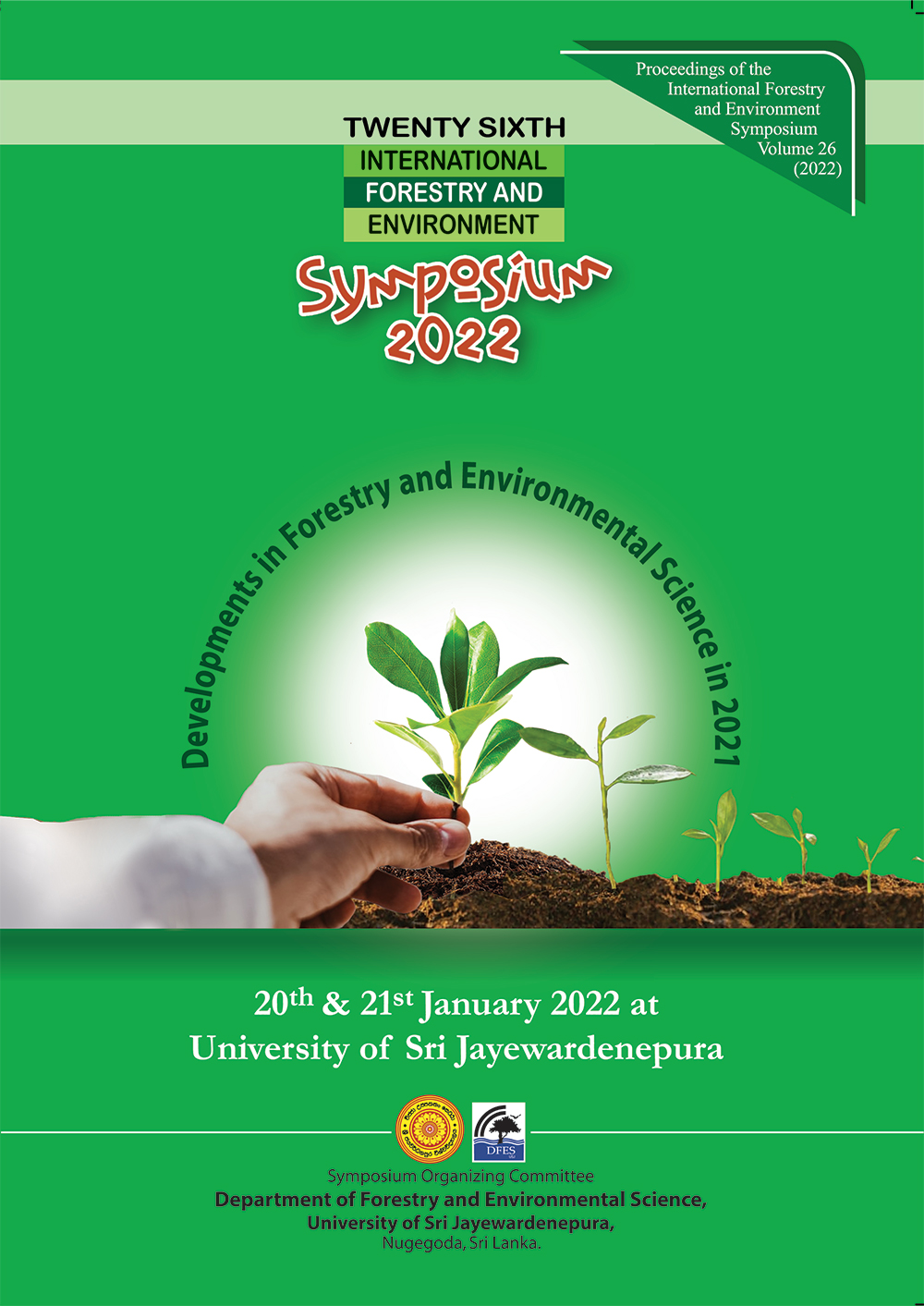 Downloads
Section
Sustainable Land Use and Urban Development