Textile Dye Decolorization Ability of Decaying Hardwood Associated Fungi
Abstract
Random disposal of synthetic textile dyes has created severe damage to the environment. These dye
effluents, even at very low concentrations, can be toxic, mutagenic and carcinogenic to various
organisms. Complex chemical structures enable the textile dyes to remain stable and inert towards
degradation in soil and water. Therefore, textile dye decolorization has gained special attention in the
recent past. Biological means of dye decolorization have become one of the attractive decolorization
methods. Fungi show a great potency in decolorizing a wide variety of dyes by secreting highly
oxidative and nonspecific ligninolytic enzymes such as laccases. The main aim of the current study
was to evaluate the dye decolorization abilities of selected fungal isolates associated with decaying
hardwoods in Sri Lanka. A total of 10 wood decay fungal isolates were screened for the laccase
production and lignin degradation using guaiacol and lignin powder amended media respectively.
Phlebiopsis flavidoalba, Phanerochaete chrysosporium, P. pseudomagnoliae and two Schizophyllum
commune strains showed both laccase production as well as lignin degradation abilities. Although
unable to produce laccases, Fusarium pseudensiforme and Aspergillus fischeri showed lignin
degradation ability. Azo Disperse Rubine Red, Indigo Carmine Blue and Disperse Black were
selected as textile dyes. Three replicates from each isolate were incubated for 21 days in potato
dextrose broth amended with each dye in two concentrations, and percentage reduction in absorbance
at 610 nm (for the Indigo Carmine Blue dye) and 400 nm (for Azo Disperse Rubine Red and Disperse
Black) were estimated. Dye introduced potato dextrose broth, without fungal isolates were used as
controls. P. flavidoalba was the best in decolorizing Azo Disperse Rubine Red (25 mg/L) and
Disperse Black (50 mg/L) dyes showing the reduction of absorbance values by 89% and 81%
respectively. For the Indigo Carmine Blue dye, F. pseudensiforme showed the highest percent
decolorization of 85% at 0.1 ml/L concentration. This is the first report of these organism's ability to
decolorize industrial dyes. Based on the results it was evident that some of the hardwood decay fungi
have industrial dye decolorization abilities where they can be effectively utilized in dye
decolorization and in future bioremediation research as well.
Keywords: Dye decolorization, Laccase, Wood decay, Fungi, Lignin
Acknowledgement: Authors acknowledge the TWAS Research Grant 18-020 RG/BIO/AS_I, NSF Sri Lanka RG/2019//BT/03 and ICGEB/CRP/LKA/18-3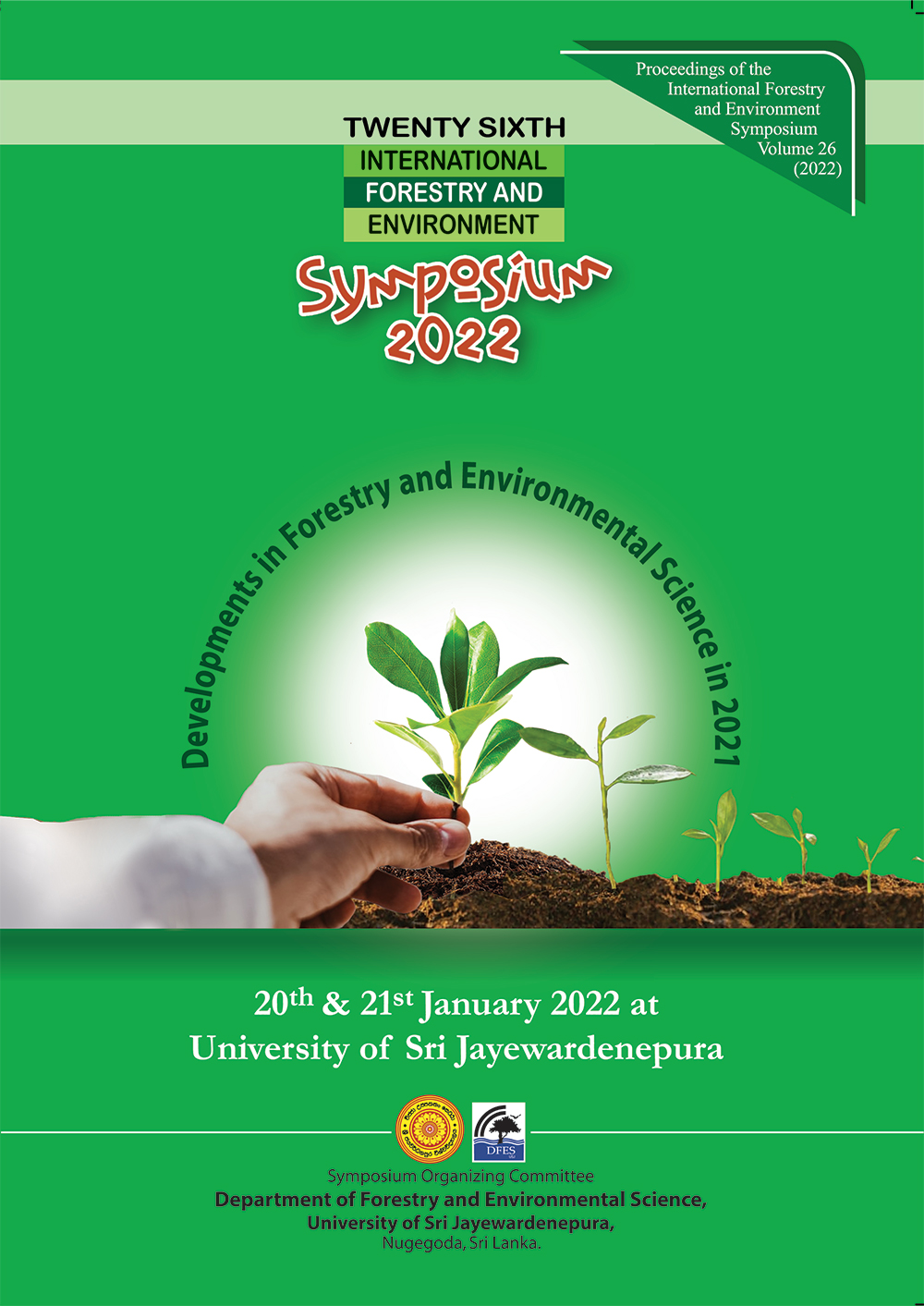 Downloads
Section
Wood Science, Wood and Non Wood Industry