Development of PP/Recycled-PET Blended Low Speed Wheels to Reduce the Virgin Plastic Usage in the Industry
Abstract
The increase of plastic usage in different applications has a huge impact on the environment due waste generation. This study was focused not only to find a way to reduce the virgin plastic usage but also to convert a commodity plastic waste into a commercial engineering product. Post consumed polyethylene terephthalate (PET) water bottles were used as a source of recycled PET (r-PET) and blended with commercial grade polypropylene (PP) to produce the center part of low speed wheels. Thermomechanical properties of PP/r-PET blends were investigated along with the effect of compatibilization. The quality of prepared wheels was examined with dynamic drum test and impact test. The addition of recycled PET into polypropylene enhanced the properties of blends and it also supported to maintain the fatigue life of the wheel.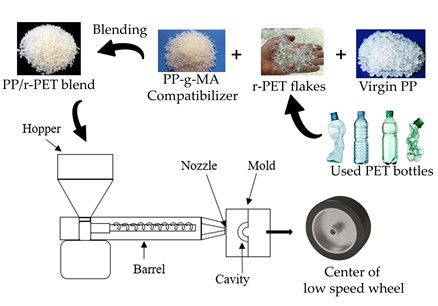 Downloads
How to Cite
Rajapaksha, S. M. ., Subhashini, S. ., Ranatunga, S. ., Perera, S. ., Wickramarathna, S. T. ., Herath, S. ., & Piyarathna, C. P. . (2021). Development of PP/Recycled-PET Blended Low Speed Wheels to Reduce the Virgin Plastic Usage in the Industry. Advances in Technology, 1(1), 7–24. https://doi.org/10.31357/ait.v1i1.4893
Section
Polymer Technology
License
Copyright (c) 2021 Suranga M. Rajapaksha, Sachini Subhashini, Sisira Ranatunga, Shiran Perera, Sameera Herath, Chamodi P. Piyarathna
This work is licensed under a Creative Commons Attribution-NonCommercial-NoDerivatives 4.0 International License.
The Authors hold the copyright of their manuscripts, and all articles are circulated under the terms of the Creative Commons Attribution License, which permits unrestricted use, distribution, and reproduction in any medium, as long as that the original work is properly cited.
The use of general descriptive names, trade names, trademarks, and so forth in this publication, even if not specifically identified, does not imply that these names are not protected by the relevant laws and regulations. The authors are responsible for securing any permissions needed for the reuse of copyrighted materials included in the manuscript.