Extraction and Screening of Biofilm producing Bacterial isolates in Short-and Long-term Catheters
Abstract
Biofilm is defined as microbial-derived sessile communities enclosed with extra polymeric substances and characterized by cells that are irreversibly attached to a surface. Biofilm bacteria are a serious threat to public health as biofilm formation of bacteria in indwelling medical devices especially in urinary catheters causes persistent infections resistant to treatment with antimicrobial agents. The present study focused to screen the biofilm-producing bacteria from the indwelling urinary catheters.  Both short-term and long-term urinary catheters were collected from the catheterized patients admitted in the national and a private hospital. Bacterial population removed from the catheters were tested for biofilm production by widely used three methods such as Tube method, Congo Red Agar method, and Tissue Culture Plate method. In this preliminary screening, the major biofilm producer identified in the present study is E.Coli in all types of catheters.  Further, biofilm-producing bacteria were predominantly detected in long-term catheters than short-term catheters. In addition, the identification of more than one bacterial strain in long-term catheters revealed that bacterial diversity increases with the duration of catheterization. The results of the present study revealed that long-term urinary catheters have the potential for survival and diverse biofilm-producing bacteria.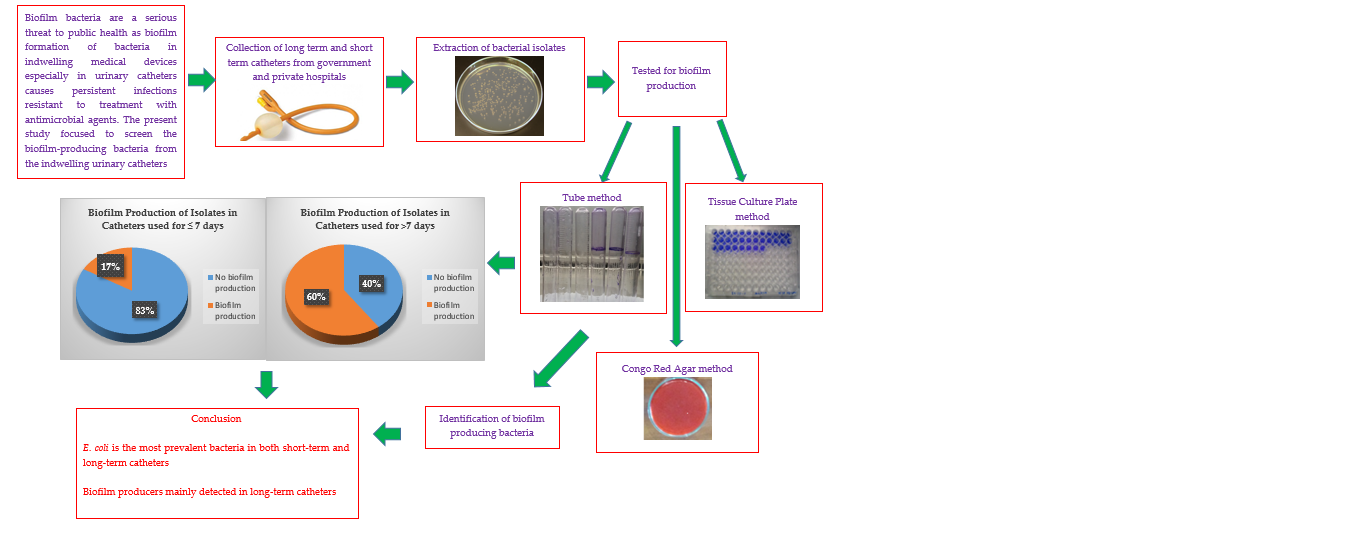 Downloads
How to Cite
Vivehananthan, K., Thevashayinath , S. ., & Abeygunawardena, I. . (2021). Extraction and Screening of Biofilm producing Bacterial isolates in Short-and Long-term Catheters . Advances in Technology, 1(2), 329–345. https://doi.org/10.31357/ait.v1i2.4925
License
Copyright (c) 1970 Kalaivani Vivehananthan
This work is licensed under a Creative Commons Attribution-NonCommercial-NoDerivatives 4.0 International License.
The Authors hold the copyright of their manuscripts, and all articles are circulated under the terms of the Creative Commons Attribution License, which permits unrestricted use, distribution, and reproduction in any medium, as long as that the original work is properly cited.
The use of general descriptive names, trade names, trademarks, and so forth in this publication, even if not specifically identified, does not imply that these names are not protected by the relevant laws and regulations. The authors are responsible for securing any permissions needed for the reuse of copyrighted materials included in the manuscript.