Vol. 16 (2011): Proceedings of 16th International Forestry and Environment Symposium 2011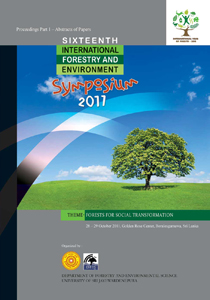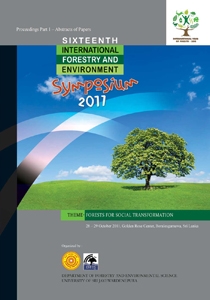 Sixteenth Annual Symposium organized by Department of Forestry and Environmental Science, University of Sri Jayewardenepura, Nugegoda, Sri Lanka was held on 28 - 29 October 2011 at Golden Rose Recreation Complex, 261, Maharagama Road, Boralesgamuwa, Sri Lanka.
This issue contains 100 abstracts under 7 different sub themes: Forestry and Natural Resource Management, Waste Management and Pollution Control, Socio Economics of Natural Resource Management, Sustainable Energy, Bio-diversity Conservation and Management, Climate Change and Plantation Management. In line with International Year of Forests 2011, the broad theme of symposium is 'Forests for Social Transformation', The papers include research findings, concept papers, reviews and policy interventions.
This year there are papers from SAARC Countries, Philippines, Austria and Australia.