Status of Ground Water in Vavuniya City, Sri Lanka with Special Reference to Fluoride and Hardness
Abstract
Vavuniya (8.75° North latitude, 80.5° East longitude and 1 meters elevation above the sea level) is in the dry zone of Sri Lanka. The only stagnant water body of the Vavuniya city is the "Vavuniya Tank"
which is located in the city center and it is highly polluted due to solid & liquid wastes received from its catchment. Therefore the main source of water for drinking purposes in Vavuniya city is the groundwater. Due to lack of water, people even use the agro wells for their domestic purposes. The main objective of this study is to analyze the quality of groundwater with particular reference to fluoride and hardness in the Vavuniya city and to demarcate the suitable groundwater resources using GIS maps. Therefore, this study is important for the Vavuniya city dwellers and water managers who seek water sources for distribution to the city. As the study area of this research project, 10km radius circle was selected from a middle point of the Vavuniya city. Then the circle area was divided into four zones namely A, B, C and D. Fifty wells,
including dug wells and tube wells from each zone of the circle were sampled randomly. Sampling was undertaken during the intermediate season from March to April in 2011. Two hundred samples
were collected during this period from the entire study area. pH and conductivity were measured in each sample by using digital meters; pH Meter model 340 WTW & Conductivity Meter, 330 WTW. Fluoride was measured using HACH D2700 spectrophotometer and Water Hardness was measured using stranded methods. Results were analyzed using MINITAB 14 and maps were prepared by using Arc GIS 10.1. For statistical analysis of data R version 2.9.1 software package was used. According to the results, north western part of the Vavuniya city (Zone A) indicated high concentration of fluoride and hardness and south eastern part of the Vavuniya city (Zone D) indicated low concentration of fluoride and hardness. Based on the other water quality data, it is recommended that the water from ground water in the south eastern part of the Vavuniya city is suitable for consumptive purposes. Nevertheless, the North Western part of the Vavuniya city could be considered as a sensitive area for groundwater unsuitable for consumption due to high fluoride and hardness  levels exceeding the recommended threshold values according to WHO water quality standards for drinking purposes.
KEYWORDS: Vavuniya City, groundwater, fluoride, hardness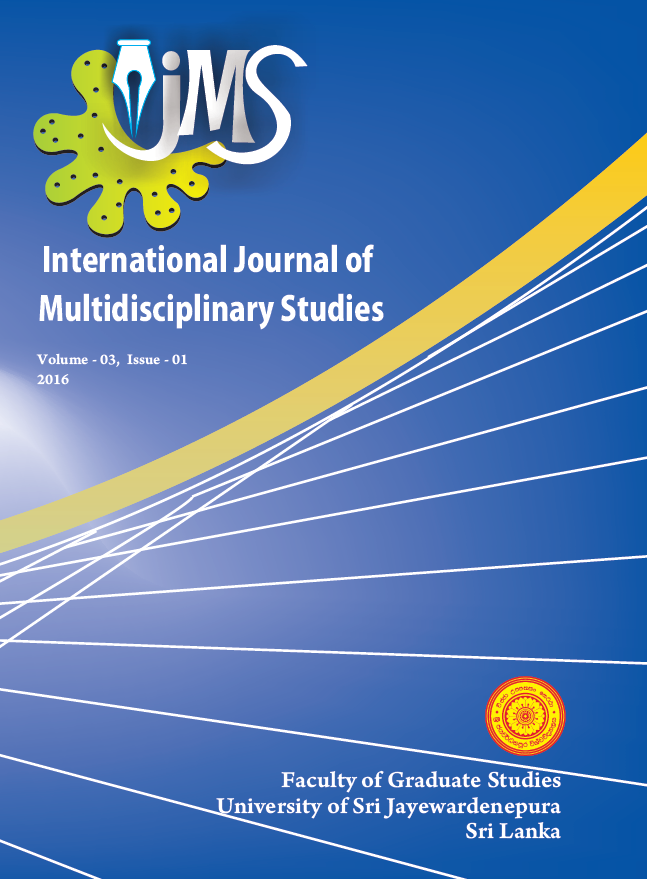 Downloads