Anthropological gleanings of the work of Martin Wickramasinghe
Abstract
Martin Wickramasinghe is a prominent figure who contributed to various academic spheres in Sri Lanka. Many who define Martin
Wickramasinghe only as a creative writer disregards the fact that he was an expert who contributed to a Sri Lankan approach in
anthropology. This qualitative research paper analyzes the role of Wickramasinghe in emphasizing the anthropological paradigms
in Sri Lankan society during his period. The main objective of this analysis is to provide a comprehensive insight about the impact
and contribution of Martin Wickramasinghe's work to develop anthropology as an academic discipline in Sri Lanka. For this
research, we utilized his publications related to anthropology and culture and analyzed the content which underlined important
anthropological characteristics. His 'Sathwa Santhathiya', 'Sakaskada', 'Mānawa Vidyāwa Ha Sinhala Sanskruthiya', 'Buddhism and Culture' are some renowned works that were applied for this study. Wickramasinghe read widely the works of Darwin, Spencer, Huxley as well as the ethnographies of scholars like Malinowski, Ruth Benedict. One of his major views was that Sri Lankan culture was undermined by the conflict with Western culture, and that Buddhism is one of the institutions that protected it from collapse and disappearance. He comparatively expressed his ideas about diffusionism, one of the significant ideas in cultural
anthropology, as an ordinary process which takes place in every society. Wickramasinghe related the ideals of democracy,
humanism, socialism, religion, and culture to the context of Sri Lanka. This research concludes that Wickramasinghe's interest in
anthropology came at a time when anthropology was not popular in Sri Lanka. He has used his knowledge and ideology from records on anthropology to express critical views on the socio-cultural divisions of Sri Lanka, although he cannot be defined as an
anthropologist.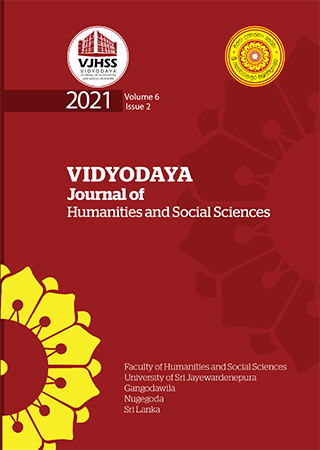 Downloads