DOI:
https://doi.org/10.31357/jtfe.v1i1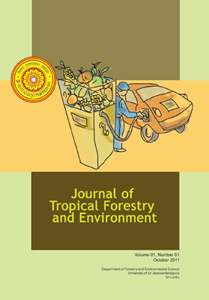 A message from the Editor-in-Chief

Apart from pioneering efforts in Forestry and Environment Education in Sri Lanka, the Department of Forestry and Environment Science has succeeded in disseminating novel research findings by way of International Forestry and Environment Symposia since 1995.  With the launch of Journal of Tropical Forestry and Environment we have widened our scope in publishing research and review articles in the field of Forestry and Environment Science, which is gaining increased attention throughout the world.

The idea to establish a new peer-reviewed journal is to provide more opportunities for researchers to publish research findings in Forest and Natural Resource Management, Waste Management and Pollution Control, Biodiversity Conservation, Climate Change, Socio-Economics of Natural Resources, Sustainable Energy, and Agroforestry and Social forestry. We hope to publish this Journal regularly with open access while maintaining high standard and impact.

This Inaugural issue includes a feature article on "Global Perspective on Biomass for Bioenergy and Biofuels" and technical papers cover such topics as effect of pollutants on fish, reduction of toxins using local materials, photo-degradation of agrochemicals, carbon sequestration by forest plantations and valuation of an eco-tourism site.  Authors of these papers originate from the Sri Lanka, India and United States.

The Editors recognize the valuable contributions of expert reviewers in achieving a high standard for the Journal.

Prof. Hiran Amarasekera