Motives of Customer Loyalty in Supermarket Patronage in Sri Lanka
Abstract
The supermarket concept has led to a renewed interest among shoppers in the contemporary retailing context. The study was conducted to understand the nature of supermarket patronage in the Sri Lankan context and evaluate the motives behind the choice of supermarket patronage and how those motives impact on customer loyalty. The study is quantitative in nature and the conclusive research design was adopted.  Customer survey was conducted to collect data from customers who reside in two major provinces of Western and Southern in Sri Lanka. Data were collected in two stages from two different samples to identify the motives of supermarket patronage and validate the results. The descriptive results provide valuable insight towards the different preferences of male versus female shoppers in supermarket patronage. An exploratory factor analysis was employed for the purpose of identifying key motives of supermarket patronage by shoppers. The results produced three major dimensions which were labelled as 'product motive', 'services motive' and 'atmospheric motive'. The structural equation modeling technique was employed to test the impact of motives on customer loyalty. The results are decisive which indicate that all three motives have significant impact on loyalty where the atmospheric motive has the highest impact on loyalty compared to product and services motives. 
Key words
 Customer Loyalty, Shopping Motives, Supermarket Patronage
Cite this paper:
A.C. Karunaratna, (2021). Motives of Customer Loyalty in Supermarket Patronage in Sri Lanka, Vidyodaya Journal of Management, 7(1), 133-162.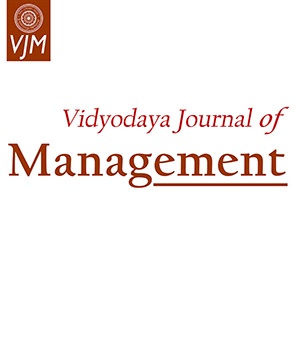 Downloads